Trailing Nightshade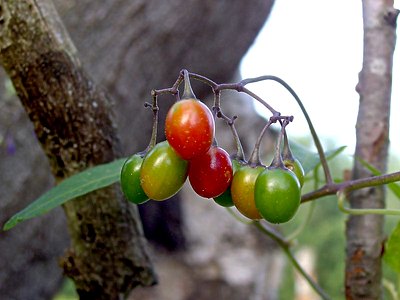 Trailing Nightshade Facts
Trailing Nightshade is another name for Bittersweet Nightshade. The binomial name for Bittersweet Nightshade is Solanum dulcamara. This should not be confused with the American Bittersweet, Celastrus scandens, which is also called Bittersweet.
Trailing Nightshade Farms
It may be possible to find any trailing nightshade farms near your location. We have built a map that will show all of the berry farms in our directory!
Trailing Nightshade Stories
Wild in the City: As summer nears end, beauty abounds
Bittersweet nightshade berries, toxic to us but palatable to some of our feathered friends, are plump and juicy; the hawthorn haws and wild rose hips are hanging heavily; and sea buckthorn berries are turning a deep orange as they mature. One bright ... Toronto Star [ story ]
Photo - Guido Gerding - Natura - Nature Experience And Environmental Education - Muenster, Germany