Snakeberry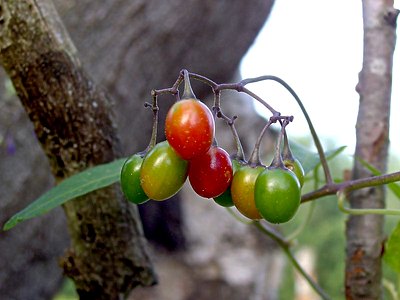 Snakeberry Plants
Snakeberry plants grow wild in a wide range of habitats, from woodlands to scrubland, hedges and marshes. Snakeberry plants are considered invasive in the Great Lakes region.
Grow Snakeberry
Snakeberry grows well in dark areas in places where it can receive the light of morning or afternoon. Too much bright light stunts sakeberry growth.
Snakeberry Uses
Both the berries and foliage of Snakeberry are poisonous to humans and livestock. Birds do eat snakeberries and spread the seeds.
Snakeberry Facts
The binomial name for Snakeberry is Solanum dulcamara. Maianthemum dilatatum, commonly known as False Lily of the Valley or Two Leaved Solomons Seal is sometimes called Snakeberry. The poison in Snakeberry is believed to be solanine.
Snakeberry Farms
It may be possible to find any snakeberry farms near your location. We have built a map that will show all of the berry farms in our directory!
Snakeberry Stories
Wild in the City: As summer nears end, beauty abounds
Bittersweet nightshade berries, toxic to us but palatable to some of our feathered friends, are plump and juicy; the hawthorn haws and wild rose hips are hanging heavily; and sea buckthorn berries are turning a deep orange as they mature. One bright ... Toronto Star [ story ]
Photo - Guido Gerding - Natura - Nature Experience And Environmental Education - Muenster, Germany