Cinderella Honeyberry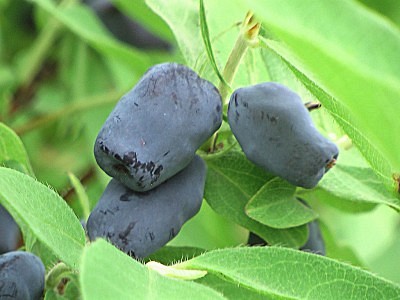 Cinderella Honeyberry Facts
Cinderella Honeyberry, Lonicera caerulea kamtschatica 'Cinderella', is a subspecies cultivar of Blue-Berried Honeysuckle, Lonicera caerulea. Lonicera caerulea is widely known as Haskap, especially in Japan and Canada, and Honeyberry, especially in the United States. Varieties include Berry Blue Honeyberry, Borealis Honeyberry, Honeybee Honeyberry, Indigo Gem Honeyberry, Indigo Treat Honeyberry, Indigo Yum Honeyberry, Northern Jewel Honeyberry, and Tundra Honeyberry.
Cinderella Honeyberry Farms
It may be possible to find any cinderella honeyberry farms near your location. We have built a map that will show all of the berry farms in our directory!
Cinderella Honeyberry Stories
Gardening: U of S fruit breeders receive award (Part 2)
[ story ]
Honeyberry pickin' time
[ story ]
Growing Together: Take your mind off winter by preparing for...
[ story ]
Photo - Bailey Nurseries - St Paul, Minnesota