Chaparral Berry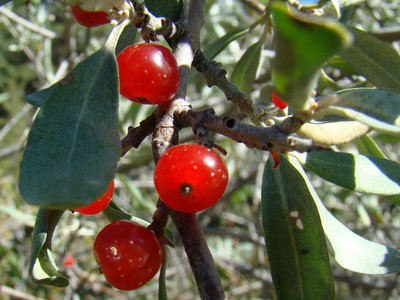 Chaparral Berry Facts
Chaparral Berry is another name for Buffaloberry. Buffaloberry is any of three species in the genus Shepherdia, Shepherdia argentea or Silver Buffaloberry, Shepherdia canadensis or Canada Buffaloberry, and Shepherdia rotundifolia or Round Leaf Buffaloberry. Buffaloberry is known by several other common names, including Bullberry, Rabbitberry, Silverleaf, Soapberry, and Soopolallie.
Chaparral Berry Farms
It may be possible to find any chaparral berry farms near your location. We have built a map that will show all of the berry farms in our directory!
Chaparral Berry Stories
Berries identified as edible, a rosebush hasn't ever bloomed...
[ story ]
This Tiny Berry Is Being Called The Next Superfruit
[ story ]
Jeff Mitton: Leaves of roundleaf buffaloberry adapt to hot, dry environments
[ story ]
Photo - Bear Smart Durango - Durango, Colorado